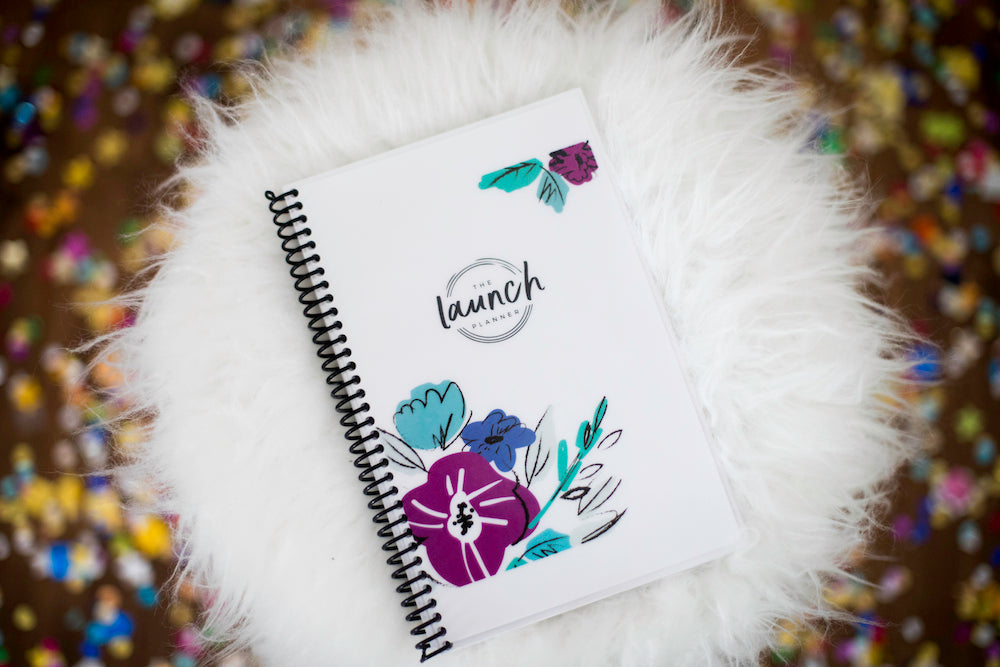 The 6 Stage Framework to Launching a New Business
Put simply, this is a modern method for fresh entrepreneurs to build their business smarter, faster and cheaper. By following a systematic process, you can put ideas into action much easier. It's time to get rid of feeling stuck or overwhelmed with the idea of building a business. I'm here to give you a push in the right direction....the push forward!
What's that saying, "if you wait until you're ready, you'll be waiting forever?" That's my mindset in a nutshell. Don't let fear, stress or confusion hold you back. There will be plenty of time for improvement and perfection along the way.
I'm giving you a roadmap that will help you finally take that next step. Follow this process from IDEA to MARKET and you will build your business with clarity and confidence.
Are you ready to get started? Let's do this!
1: IDEA
It doesn't matter where you are at in the business building process, the IDEA stage is an important foundational aspect of every company big or small.
"All great businesses started as a concept."
However, it's what the entrepreneur DID with their idea that made them successful. It's a lot easier to come up with a new concept than it is to actually implement it. Plus, the most promising businesses never stop with one idea -- you must be constantly innovating and inventing in order to survive.
Here are some important things to focus on in the IDEA stage:
Before moving forward with a new idea, make sure to validate that there's a market
Understand all of the costs, opportunities and challenges involved with each idea
Be open to evolving the idea or completely pivoting from the original concept
Listen to all feedback and criticism with appreciation and logic
Don't stop with one idea -- after you go to market, always be innovating new ideas!
Use your planner to write down one or more of the following action items that you should focus on:
Do more research to learn about your market and industry
Ask someone with industry experience about your idea to gain expert feedback
Determine at least one new sales or growth opportunity for your idea
Admit to one major challenge related to your idea and figure out a solution
Develop 2-3 new ideas that could bring in more sales for your business
Be inspired to take action on your IDEA and continue making new progress every day!
2: BUSINESS
After you've taken the necessary steps to ensure your idea is worth pursuing, it's important to nail down the basics of your overall business structure.
"Defining the nitty gritty aspects of your business isn't always fun... but it's absolutely necessary."
So let's get it over with now before we jump into more exciting topics!
To keep things simple, focus on these essential items during the BUSINESS stage:
Describe what, why and how you are going to build this business in clear terms
Learn to describe exactly what separates your business from the competition
Outline the costs involved, the revenues you expect and when you'll break even
Understand what type of business entity you will form and any legal implications
Get your business organized from the start - from phone #s to fax to software
Break out your planner and include any of these action items to continue progressing your BUSINESS over the next month:
Define the vision, purpose and goals of your business
Determine what your positioning is in the marketplace
Establish a budget for the business to include costs, profits and pricing
Learn more about legal entities, business contracts or other certifications
Develop a system for bookkeeping and tax preparation
It's important to stay motivated and move forward on your BUSINESS every day!
3: OFFERINGS
Now it's time to talk about what exactly you're offering to customers and how you're going to develop it. Whether you offer an incredible service, an innovative product or simply something special only you can provide...it's important to create this offering with a particular mindset.
Otherwise, you will be focusing on the wrong things and you'll never be able to launch or grow your business.
"If you worry about perfection, you will never make progress."
So let's nail down exactly how to stay focused while developing your OFFERING:
Learn tips on how to streamline the development of your product or service
Understand the differences between running a local versus an online-only business
Determine innovative sales channels for your offering in order to make more money
Define exactly who your customer is and why they NEED your product or service
Evaluate, compare and establish the resources and vendors needed in development
Grab your nifty little planner and include any of these action items that will help you better develop your OFFERING:
Research ways to improve the offering or streamline your development
Learn what it takes to sell the product or service locally versus online
Explore the various sales channels for your specific offering
Determine what your ideal customer's needs are and how to fulfill them
Find additional resources, vendors and partners for your product or service
Remember that it's more important to focus on progression than perfection!
4: BRAND
It's officially time to start the creative side of the business building process!
"Branding is all about bringing your company to life through a cohesive design and messaging strategy."
By giving your brand a personality, you will more easily be able to connect with your audience. People are drawn to things that interest them and the ultimate goal of your brand is to spark a connection that sticks. So...let's talk about how to do that!
The creative process can get distracting so here's how to focus on your BRAND:
Gather ideas and inspiration for how you want to design your company's look
Personify your business and develop a tone that can't be copied or ignored
Develop messaging that will be consistent across all communication points
Design the elements that will define your brand and resonate with your audience
Create images that can be used throughout your online presence
If you're using a planner, it's time to add any of these tasks that will help you establish an incredible BRAND:
Collect images and graphics that will inspire your own brand elements
Find attributes that you can associate with your brand's personality
Create some talking points that you can use in your marketing activities
Work on defining more elements of your brand so they are consistent
Develop graphics for your website and social media pages
Hope that you are inspired to bring your business to life!
5: WEBSITE
We're ready to move into the wonderful topic of websites. Your online presence is the face of your company, whether you sell online or locally.
"It is absolutely vital to create a site that not only looks beautiful on the outside, but is intelligent on the inside."
This is the only way to truly maximize your online space and ultimately get more customers! Because that's the overall goal, right? I'm going to help give you the scoop on how to create a website that converts (and stand out from the pack, too).
Get in tune with your overall online presence while working on your WEBSITE:
Understand how to build SEO into your site from the beginning
Differentiate from the competition through the way you present your content
Create your site using Wordpress, Shopify, Squarespace or any other platform
Include an area to capture email addresses from potential customers
Connect all other online pages to your website for a cohesive presence
Make sure to include some specific action items to your planner in order to keep elevating your WEBSITE:
Learn some new SEO tactics to help maximize your website
Find ways to include content on your site unlike anyone else
Explore the differences between the most popular website platforms
Add an email opt-in form to your website to gain email addresses
Ensure that all of your online pages match the look and feel of your website
Now it's time to take action! What are you going to get to work on?
6: MARKETING
When you are finally ready to open the doors, you must have a strategic plan for attaining new customers. Even though you have a website, people will not know you exist online until you start marketing your business.
"You will get lost in the sea of businesses unless you know exactly how to attract people to what you offer."
There are many ways to drive traffic to your site with online and offline marketing tactics. Let us help prepare you for success!
Be sure to follow these tips to properly find new customers with your MARKETING:
Learn how to standardize the way you promote on social media platforms
Leverage email marketing to capture leads and convert them into customers
Find ways to earn media coverage and get featured in blog
Establish some form of advertising to drive more traffic and leads
Do whatever it takes to sell the heck out of your offerings!
Make some room for any of these final action items in your planner that will help you expand your MARKETING:
Standardize your social media marketing efforts
Learn how to better use email marketing to convert leads into customers
Make connections with media journalists, bloggers and influencers
Setup an ad campaign for your product or service
Determine at least two alternative ways to sell more immediately!
Gear up to get your hands dirty in this marketing stuff. It's the only way to really make it!
To your massive success, 
xo, Shawna.
In Same Category
1 comment