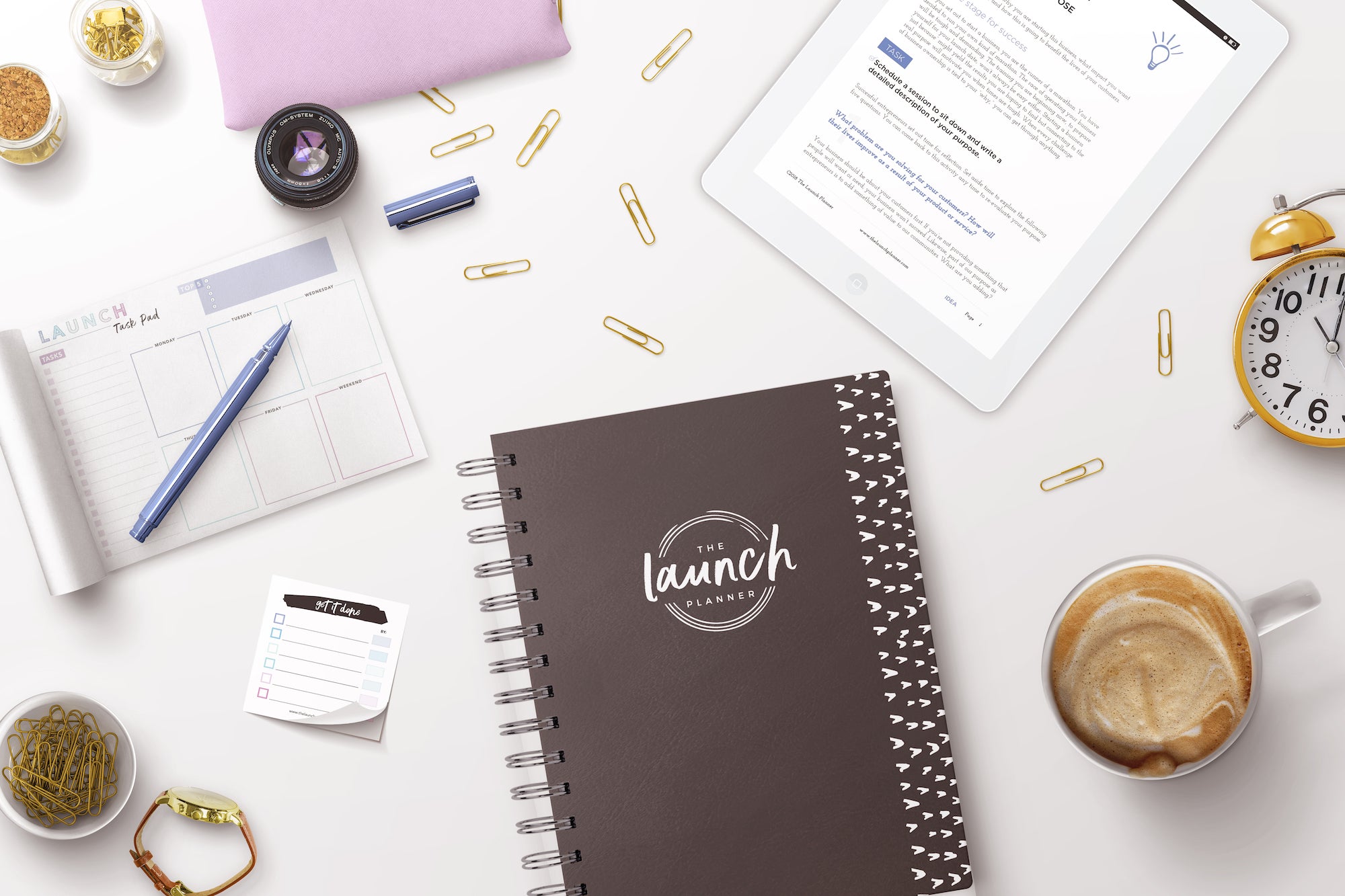 The Ultimate Business Planning System for New Female Entrepreneurs
The Launch Planner isn't JUST a pretty calendar with motivational quotes and the cutest covers around (if we do say so…) – it's a tool.
Our planner and associated products comprise a proven and entrepreneur-architected system that helps you achieve your business launch incrementally, accountably, and productively.
Below, we'll answer a few questions about how this system works and plays together to help you hit your launch goals:
Question: I'm BUSY! How can I keep myself accountable and make time to launch my business?
Answer: This answer is a bit different for each entrepreneur. Here are a few tips that will get you started in the right direction:
Set a recurring date with yourself: You might find that you can take an hour every evening to dedicate to business tasks. You might be able to take a working lunch a few times per week or steal half of a Saturday to work on your business. When things are hard-lined into your calendar you can feel certain that they won't get left behind.
Set clear goals: Family and friends, your "real" job, housework and all those other important things keep popping into view sending your focus adrift. By knowing what needs to get done (and by what date), you can benchmark your progress and learn when to say "not right now" to everything else.
Grab an accountability partner: Do you know anyone in your network who is also trying to launch a business this year? Do you have a mentor who is interested and invested in your business success? Can you join an online community (like the Launch Ladies Facebook Group!) to keep you on track? Having someone checking in on your progress and supporting your end goal is huge!
Plan your launch in detail: The idea of "launching your business" is just a vision or dream until you create a list of line-items, organize all of your to-dos into a countdown, and determine what your "launched" business actually entails. When are you ready? How do you know that you've launched? What are all the steps in between and how long will they take?
Question: How will a "business planning system" help me launch my business?
Answer: A solid system for planning your launch will help with everything above. It's part daybook, part monthly wall calendar, part notepad, part accountability partner, and part task dashboard. Our planning system is built according to key principles of productivity so that when you use all the tools in tandem, you can:
Write it to manifest it: A standing principle of productivity is that when we write down what we need to do in a day, week, month, or "someday," we manifest it into being. What was once an idea that could float in and out of importance is now a tangible thing to look at, to touch, and to refer back to. Handwriting – with pen and paper – is more powerful for some people than typing goals or tasks into a phone or computer app where they get buried alongside everything else in our digital livingspaces.
Set smarter goals: Productivity relies on clarity. We can't get anything done if we don't know what we're doing or what comes first, next, and so on. That date you set every Friday from 5 to 7 PM to work on your business will be nothing more than doodling and bouncing from idea to idea until you get your goals clear and your tasks clearer.
Race the clock: Knowing that the sand in the hourglass of your business launch continues to drain can be very motivating. Productivity coaches will often encourage their clients to examine the time it takes them to complete specific tasks as well as set time-related goals related to a large project. This will help ensure that your "Someday" turns quickly to "This Day." Once you know when your launch will ideally take place, and how long each needed task will take you, it's a matter of reverse-engineering your timeline until everything has its proper time and focus.
Block your projects: This business planning system looks at several lenses of time and focus at once. You can look at what needs to be done on a weekly, monthly, or whole-project basis to help you create incremental focus and know that you are (or aren't yet) on track. Likewise, all Launch Planner products are designed to help you focus on one facet of your launch by breaking your energy into 6 phases, with 10 subtasks each. Nobody can digest a big goal like launching a business without breaking it into smaller bites.
Measure your progress: With a business planning system, you know where you stand. It's important to be REAL with yourself about what you have accomplished (because, WOW!) and also, what you still have left to handle. It's important to see at-a-glance which facets of your launch you've been avoiding, which ones take longer for you to do, and which ones may require some outside help. By getting the WHOLE picture out there at once, you make sure to give yourself credit, extra time, and extra hands where needed so that your progress stays steady.
Question: What planning tools make up the "Ultimate Business Planning System"?
Answer: The business planning system that YOU need may include several tools including your phone and your digital calendar, the dashboard for your home and the calendar you share with your family, and other key elements. The parts we know you need to make the most of whatever time you take for your business include the following:
1) LAUNCH PLANNING: set the stage with a long-range launch tracker
Our planner itself – the book with all the big ideas – is the key component to the whole system. In it, you will find all the steps to launching your business with ease, clarity, and capability.
In it, we break down all the facets of business that you need to consider, alongside a timeline and task list that will work for you. Think of The Launch Planner as your launch assistant.
Along with the proprietary 6-stage launch process that we outline in each planner, we include templates for:
Launch Plan:

consider this a condensed version of your business plan, where you will keep track of important aspects to your business.

Launch Timeline

: use this template to start mapping out what you want to accomplish each month in order to work toward launching your business. 

Launch Countdown

: this is what you'll start to fill out up to three months prior to launching your business, by working backwards from that date to determine what you need to get done each week to reach your goal launch date.
How do I use this tool?
The launch planning templates in each of our planners are excellent tools to help segment all the parts of your business - from your brand and concept, to your pricing and product info, to your marketing and strategic partnerships – and foster your understanding and completion of each section.
You will fill out the brief concept of each section as you understand them – a great reference to return to even after your launch – and then fill out your timeline to complete and solidify each one.
2) MONTHLY PLANNING: map out your months with business perspective
When you sit down to determine your intentions at the start of each month, you are gearing yourself up to put focus on your business goals. Remember, planning ahead is the KEY to making huge progress each month. It really can be as simple as mapping out your month and committing to take action. You are in complete control of your productivity ... it's all about time management, baby!

The Launch Planner includes Monthly Snapshot calendars to propel each section of your launch timeline and set the dates you need to complete those tasks alongside any other events or appointments.
The monthly Project Plan view is all about getting your intention for the month ahead. It makes you think about your main focus and the important projects you're working on that month. Plus, the intuitive prompts get you thinking like a business owner. Starting and growing a business is all about making connections, hiring people, gathering resources and asking questions. If you keep a dedicated space to capture those pieces for your business each month, you will condition yourself to start thinking more like a CEO.
The Monthly Planning pages have been designed in a way to help you make huge progress. While the layout is simple, it's also streamlined. Since we know you are super busy and many of you are planning this business on the side of a day job or other priorities. The simple way we've structured these templates is to help you avoid feeling overwhelmed or like you didn't accomplish enough. 
The idea is to keep a running list of everything you need to get done. Take it out of your head and put it to paper. Then you'll work these into each of the weeks for the month ahead. The goal is to tackle, at minimum, 5 tasks each week. Commit to getting those 5 things done no matter what and you'll make huge progress on launching your business. (Anything above that is a bonus!)
Lastly, it's important to have Monthly Reflection in the mix. These templates will guide you to get in the right mindset, by prompting you to figure out what's working and what isn't, so you can move forward. Consider this your check and balance business tracker!  
How do I use these tools?
Set your dates – whether they're hard appointments with vendors or due dates you set yourself – and watch the productivity and accountability solidify. The project planning sections will drill your focus into specific areas of your business that need attention and generate a very clear set of to-dos. The reflection section includes specific prompts to help you look back every month to see how far you've come and help redirect your focus and your work for the next month.
3) WEEKLY PLANNING: organize your day-to-day with a weekly task pad
Even a month at-a-glance can be pretty big-picture. Among the laundry and kids' activities and all the tasks on your plate each week, those lofty goals for the month of March get pushed to the 31st until oops ... it's April and the business gets pushed to the back burner. again
To the rescue: a weekly tear-off pad with goals, top tasks, and a per-day breakdown of your biggest to-dos.
How do I use this tool?
This one-pager is simple: you can map out down to the day, what exactly needs to be done and what the biggest touchpoints will be for your week ahead. It's also SUPER easy to transfer what didn't make the cut last week to your to-dos for next week.
Bonus: the satisfaction of crossing off major projects along the road to your launch date is even sweeter when you cross them off of the day, the week, the month, and the grand timeline. Talk about productive! 
If you're interested in implementing a proven planning system into your business launch efforts, come check out The Launch Kit. It includes all this and more!
In Same Category
0 comments