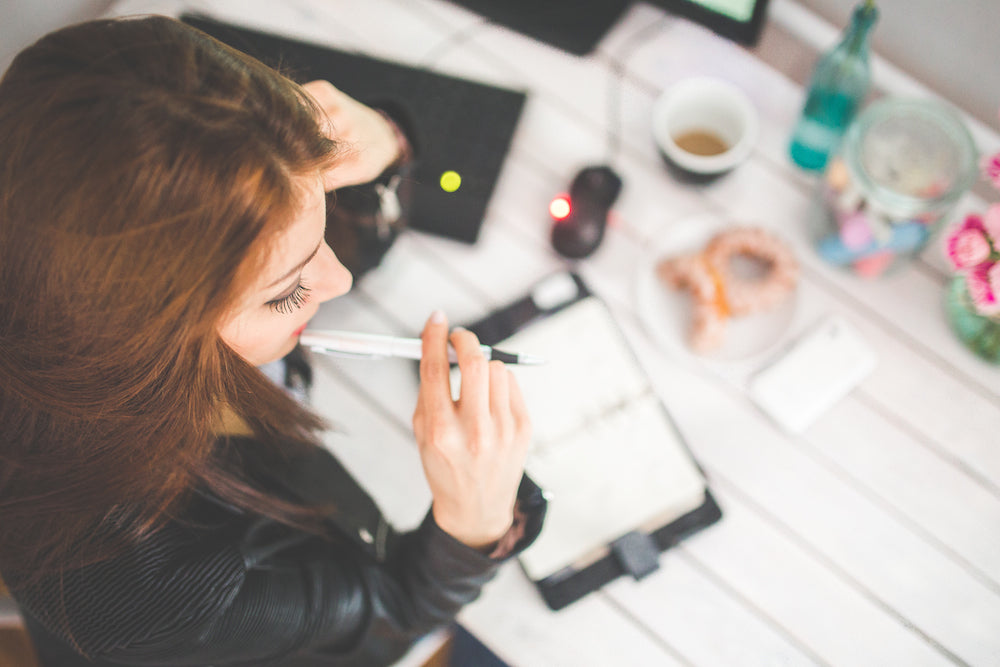 How to Transition from Day Job to Dream Business
What would you be doing if money was no object and your life was magically *funded*? After your closet is spruced and you've found the home of your dreams, you would still have to spend the rest of your days doing something.
Would you travel more? Host more get-togethers? Take pictures of your dog? Donate to charity? Foster children? Start a band? Found a non-profit? Design clothing? Plan weddings? Craft all day? Drink all the wine? Write novels in a cabin in the woods like me?
I'm here to tell you an exclusive secret. There are people out there right now doing each of those things and many of them are even making a living! There's another secret – those people are no more talented or capable than you are. Those people, often, did not have any conveniences or handouts not awarded to you. You can follow in those footsteps or better – you can carve your own path.
But it's not easy. Each of those people living out your passion or one of their own took major risks, leaned on their loved ones, felt discouraged, and considered turning back to a life of serving someone else's passion in an office on the 4th floor – the one without a window.
You will need to overcome a great deal of doubt – yours and others' – and defend your goals against naysayers, money-grabbers, and conformists. But you CAN. We have put together a little quick-step guide to help you envision how to leave your day job behind and make your dream job the real thing:
Step 1: Identify Your Viable Passions
It's time to answer my question from earlier: what would you be doing if you didn't need to provide financially? Make a real list and sit with it. I'll wait.
Now, of the things you believe would enjoy – salary not included at this point - which are you the best at? Be objective and consider your real skills. Circle those.
Great! These are your viable passions. These are the things that you enjoy doing and can also do with some success.
Here's an example: Katie loves playing tennis, drawing cartoons, and cooking for her friends and family. She's pretty good at drawing and an excellent chef but her tennis skills are just so-so. Drawing and Cooking are viable passions for Katie.
Explore Your Possibilities
We are now going to make a What and Whom chart using your viable passions. For each viable passion you selected (whether you have two or ten), you need to identify and list the types of things you could do for money which would heavily utilize your viable passions; this is the "what" column.
Highlight or circle anything in the "what" column that uses multiple viable passions at once. In the "whom" column, list the names of people – famous or in your own circle – who share one or more of your viable passions and make money using them. This will help you envision what's possible.
For our example from above, Katie chose cooking and cartoon drawing. In her "what' column, she might list things like "professional chef, food blogger, cookbook curator, food photographer, food critic" and "comic strip artist, illustrator, greeting card designer, and freelance artist."
Food blogger and cookbook curator are circled because they might also utilize her artistic skills. In the "whom" column, she has listed the respected foodies she knows about and the artists and doodlers she loves. After some consideration, Katie decides she wants to create hand-drawn cookbooks for children.
Sniff the Market
You'll need to do a great deal of research. How many competitors – companies and individuals – are doing what you want to do? How can you differentiate to earn customers? What types of pricing are common to these existing businesses? Who are your target customers going to be? What do they want to see?
This will take a great deal of time and energy – this knowledge doesn't show up overnight. However, it will be useful as you break onto the scene and for many years, as you grow your dream.
Stairstep Your Approach
Once you decide on what you want to do as a business, you must decide what is possible now and what you will need to expand that possibility. Split a large piece of paper or a document on your computer into three sections: Side Hustle, Full Time, and Financial Freedom. In each section, you will fill out these sections:
Support & Equipment: Can you do this alone or do you need help? At what point will you need to hire someone? What equipment will you need – this might include physical tools or items, a website and other promotional collateral, or even a physical space. Write down what you'll need to do this on the side and what you'll need as it grows. You won't have all the answers just yet.
Financial Needs: How much money will you need to pay for all the items you listed above? What will you need to pay yourself on the side and full-time to make it worth your energy? How will you price your goods or services to compete in the market and still meet these needs?
Time Constraints: How much time do you have to devote after your full-time workday is over, or on the weekends? You still want to have a life, engage with your family, and take care of yourself and your home. If you're working 40 hours per week, how can you make the most of 1 or 2 extra hours every few days? How can you steal a half-day on a weekend? Be as realistic as possible.
Curb Doubt
A funny thing happens once you begin to look at the reality of owning a business – it seems even harder! Don't let that stop you. More work, more sacrifice, or more uncertainty are temporary compared to a lifetime of doing a job you don't love and spending your time unfulfilled.
Create a moodboard, a brainstorm document, or a list somewhere that reminds you why you're doing this, where you'll be someday, and how possible it can be. Keep that handy for when things get predictably difficult.
Set Your Goals (On Fire)
Once you know what you want to do, how you plan to get there, and what's possible with your life the way it is now, there's nothing stopping you. Most people find a low-cost, freelance, or part-time way to break into their passion, stockpile side cash, and then take the leap once two things happen:
There's enough money to live on while the gap is filling itself, and
There's proof that your ideal customer wants more of what you offer.
Remember Katie from our example? She worked at a corporation doing work she didn't love, started a blog and an Instagram account where people could see her drawings and try her recipes, and she was picked up by a major bookseller to publish her cookbooks. By now, she could be hosting a cooking show for kids, making her books, and living her dream. Or maybe, Katie could be you.
What would you be doing if you didn't need to make money?
Make it viable. Make it possible. Make it happen. The Launch Planner can help you do all three in 2018.
This is your year and the best time to begin is always right now.
---
Did you enjoy this article? COMMENT BELOW and tell us how it relates to you. What business are you dreaming about? What are your passions? What fears are holding you back? We want to hear from you!
In Same Category
0 comments