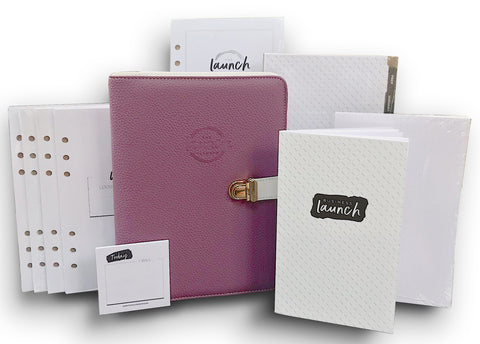 THE LAUNCH PLANNER™ :
7-Piece Planning Kit
FREE SHIPPING IN THE USA! 

LAUNCH YOUR BUSINESS IN A MATTER OF MONTHS.
Make the best use of the limited time you have to work on your business so you can get up-and-running, FAST.
Follow a guided, proven process.

Know exactly what to work on.

Stay focused and committed. 
Whether you're a planner person or not, you need a way to get yourself organized and stay on track with your new business. This is the way.
Because it's not just a planner. It's a planning system to start your business.
With this 7-piece planning kit, we walk you through our proprietary six-stage launch process that breaks down starting a business into bite-size steps. It comes in a booklet form that you tuck inside the pocket of your planner.
Each of the six stages includes 10 suggested tasks, along with tips, tools and resources. Think of it as a master checklist that guides you along the biz building journey.
You simply work all your tasks into the monthly and yearly planning templates. 
Our signature system includes 1) the binder, 2) the booklet, 3) and a full year of planning insert pages.
You can customize the planner to suit your style and preferred size, by including any amount of inserts and note pages at one time. 
Here's what's included:
Binder:

 

one place to store all of your business planning, papers, notes, ideas and most important priorities

Booklet:

proprietary six-stage framework for starting a new business, with 10 suggested tasks in each stage + tips and tools 

Planning Inserts (weekly insert pages for a

full year

):

Monthly Snapshot: 12

dated

calendar spreads for scheduling important dates, appointments and priorities (2019 + 2020 dates!)
Monthly Goal Plans:

two-page spreads for planning out key monthly goals, projects, and tasks

Weekly Planning:

two-page weekly spreads for jotting down your top-priority tasks for 52 weeks of the year

Monthly Reflection:

one-page template with guided prompts for reflecting on each month to make more informed decisions

Blank Notes: pack of notes pages to act as your business journal to keep ideas, notes and brainstorming
Mylar Tabs:

 set of tabs to organize your months, as well as for "prep" and "extras"

Post-Its:

 

pack of sticky notes to prioritize your top tasks for the day
Bonus Pack: specially designed templates for outlining specific business elements
Beautifully designed for the business owner.
A5 binder (7.5" x 10") with pockets + pen holder

Insert pages 6.5 x9 inches

12 months of

dated

planning pages (shrink-wrapped in four 3-month packs) 2019 - 2020 dates!

Sturdy mylar tabs (14 total)

Gold binder ring (1.25")

Thick, 80lb pure white paper

5" x 8" business booklet that fits in the inside pocket
This planner is the perfect, portable size and will become the ONE place to store all the pieces of your business. Let's take a look inside!
Proudly printed in the USA.
Each and every planner is specially printed and packed right here in America.
FREE and fast shipping!
Shipping is included in our price (for all U.S. orders) and we normally process your package within 24-48 hours (Mon - Fri).
Customer Reviews
LOVE it!!
I absolutely love my launch planner. The questions and prompts for each month are thoughtful and valuable. They totally helped me get clarity on my goals and helped me break them down into manageable steps. I plan to get a planner every year!
KR
03/11/2019
Khrystle R.
LOVE THIS PLANNER!!
Love the quality and everything about The Launch Planner! Love how it is customizable!! It is exactly what I need to take my business to the next level! Highly recommend!!
Awesome!
I have always been a planner person, but with 4 businesses, I have struggled to find a planner with a system that works in all areas. The Launch Planner is keeping this busy lady organized and on track in all areas that matter most for forward progress! I LOVE IT! PERFECT!
CC
02/08/2019
Camille C.
You rock!
I love it. It keeps me on track with my goals :-)
KR
01/02/2019
Khrystle R.
Love this planner!!
Love everything about this planner! The quality is amazing, especially with the metal tips on the corners of the front and back cover! This planner really gives me a clear outline on what I need to do to take my business to the next level. Sooo pleased with it and highly recommend it!