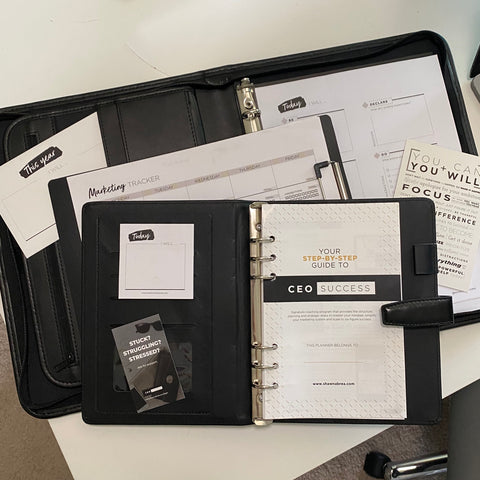 CEO SUCCESS Private Client Package
Please order your package so we know where to ship your kit.
Customer Reviews
10/06/2020
Nikki P.
United Kingdom
A lean mean planning machine!
This pack has EVERYTHING I need to support my business! I didn't know that I could be THIS organised. Thank you Shawna! xx
05/19/2020
Raquel C.
United States
I love it!
Omg. I love how structured this planner is. It's definitely what I need! I love it!!!!
04/17/2020
Tammie J.
United States
The Launch Planner is Amazing!!
This planner is very dialed in on what we as CEO's need to keep track of to continue growing our business. I love the quality and how thick the pages are compared to all other planners. The binder is very pretty and also of high quality. I will continue using this for years to come.
12/17/2019
Jennifer V.
United States
Wonderful planner for business & home!
This planner keeps it all together. Can be used for personal & business. Asks the right questions to keep your life organized. Great sections for each month & other areas. And the floral binder...gorgeous! I love my planner!
11/12/2019
Ceilidh C.
Canada
the best
so far I love it, it holds me accountable for my weeks ahead and review the month prior, what worked what didnt work. what I slacked on, and what I did good at.